CABLE EQUIPEMENTS is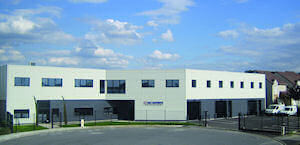 the CABLE HANDLING specialist

All materials to place, store, measure, (un)wind and repackage the cables:
- UNWIND CABLE from Racks or Unwinder
- CABLE REEL CONSTRUCTION UNWINDER (on site)
- COIL and SPOOLS DISPENSERS
- DRUMS RACKS (to store and unwind drums)
- MEASURE DEVICES
- MANUAL ELECTRIC REELS
- WINDING MACHINES (Manual-Motorised / drums, Coils, Spools..).

These devices certainly apply to ELECTRICAL CABLES, but could also be used for every flexible product: metal cables, pipes, hoses, ropes, braids, ...


the CABLE PROTECTION specialist

All CABLE PROTECTIONS :
- Available on stock
- Flexible or rigid
- Small or large cables (up to 135 mm diameter)
- Interior or Exterior
- For PEDERSTRIAN or VEHICLES crossing.



the ELECTRICAL POWER SUPPLIES specialist

All AUTOMATIC REELS (electric version)
- Plastic or aluminum case
- Cable HO5VVF or HO7RNF
- From 1 to 16 conductors
- All sections : from 1 ² to 25 ²
- All lengths from 5 to 30 meters
- Different IP, IK... ATEX

All REELS CRANK (empty)
may contain up to 320 meters of cable.


Most products are manufactured at both sites : Aumont-Aubrac(48), Lozère and Noiseau(94) in the Paris area.

Regarding the winding machines, CABLE EQUIPMENTS manufactures its own range, and is also the exclusive agent of the Italian company NICOLETTI.

Nearly 350 machines have been sold in France to this day.

Moreover, CABLE EQUIPMENTS offers to winding machines users (electrical wholesalers, industries, administrations, ...) an efficient AFTER SALES SERVICE for all brands winding machines.

Some materials are also available for rent.